Beyond Good and Evil ist DAS kultige 3D Action-Adventure aus 2004. Kein gutes Spiel hat es verdient, zu floppen. Vor allem nicht dieser Ubisoft-Titel, denn er war seiner Zeit schlicht meilenweit voraus! Die Handlung spielt in einer fiktiven Welt, die von den außerirdischen DomZ bedroht wird. Du übernimmst die Rolle von Jade, einer charismatischen, jungen Fotojournalistin, welche versucht, die Wahrheit hinter den Angriffen der DomZ und einer Verschwörung der Regierung aufzudecken. Das Spiel kombiniert Elemente von Action, Rätseln, Fotografie und Stealth, wobei der Fokus auf der Erzählung und der Charakterentwicklung liegt. Der Download ist extrem langsam, es empfiehlt sich ihn mit dem Free Download Manager zu unterstützen. Hier eine Hilfe die Fotografien betreffend, und die Komplettlösung. Ein Youtube Video mit dem gesamten Spielablauf hat es auch!

realMyst: Masterpiece Edition is the beautifully enhanced version of the classic adventure game "Myst" (1993), which was a groundbreaking title known for its immersive graphics and puzzle-solving gameplay. The main difference between "realMyst: Masterpiece Edition" and the original "Myst" is the transition from a point-and-click slideshow-style interface to a real-time 3D environment providing dynamic water, weather, lighting, foliage, focus, and more. This change in presentation brought the classic game into the modern era. There are good Youtube videos available, and here is the walkthrough PDF. Opening the downloaded ZIP-file requires the password "www.gametrex.com"!

The 7th Guest: 25th Anniversary Edition ist das hervorragende Remake des interaktiven 3D-Horror-Film-Puzzle-Abenteuerspiels The 7th Guest von 1993, eines faszinierenden Trips aus der Perspektive des unter Gedächtnisschwund leidenden, namensgebenden siebten Gastes, der durch ein gruseliges Herrenhaus zu wandern hat. Die Rahmenhandlung um Manipulation und Sünde spult sich allmählich in filmischen Rückblenden ab, während der Spieler durch das Lösen von einundzwanzig Rätseln wechselnder Natur und mit steigendem Schwierigkeitsgrad von einem Raum zum anderen gelangt. Neben Myst gilt The 7th Guest weithin als Killer-App, die damals den Verkauf von CD-ROM-Laufwerken ankurbelte. Hier ist die Komplettlösung!



Penumbra is a great first-person 3D survival horror adventure game, known for its atmospheric and immersive gameplay, emphasizing environmental storytelling and puzzle-solving. The game features a physics-based interaction system, allowing players to manipulate objects in the game world. The storyline revolves around the protagonist, Philip, as he explores mysterious and eerie environments, uncovering a dark and unsettling narrative. One notable aspect of Penumbra is its emphasis on psychological horror and the avoidance of direct combat. Here's the walkthrough!



Grand Theft Auto 2 (GTA 2) is an impressive action-adventure and the second installment in the Grand Theft Auto series from Rockstar Games. After the success of GTA 1, a sequel was a natural move and GTA 2 was born. It retained the 2D top-down bird's eye view, thus offering a rather simple visual style compared to the more complex 3D third-person or first-person perspectives found in the later Grand Theft Auto titles. However, it was a lot of fun back then, and still is! You assume the role of a criminal who works his way up in the underworld of a futuristic and dystopian metropolis called "Anywhere City". You complete various missions for different gangs while engaging in illegal activities such as theft, carjacking, and other criminal acts. Here a the cheats and a walkthrough.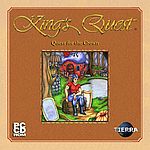 King's Quest I Quest for the Crown VGA is a gorgeous remake of the revolutionary DOS adventure from 1990, which is commonly considered the progenitor of third-person-perspective adventure games. 16 years later, the AGD Interactive team took on the classic to give it a complete overhaul: the graphics have been given a noteable upgrade and look absolutely stunning in places, while controls have changed from text based (where commands had to be typed) to a newer icon based system. In the game, the Kingdom of Daventry is in grave danger, and a desperate king summons his bravest knight Sir Graham to the castle, in order to retrieve three legendary magical items that were lost or stolen long ago: a shield, a mirror, and a treasure chest. So Sir Graham embarks upon the eponymous, risky and dangerous quest through Daventry. Here's a FAQ and the walkthrough!



Dink Smallwood is a beautiful open-source adventure RPG. The story follows the quest of the titular character, Dink Smallwood, who starts as a pig farmer in the small village of Stonebrook. The game begins with Dink's village being attacked by monsters, prompting him to leave his mundane life and embark on a journey to save his homeland. As Dink explores the game world, he encounters various characters, engages in combat with monsters and solves puzzles. The game features a humorous and light-hearted tone, and Dink may interact with non-player characters (NPCs) to gather information and receive quests. Here's the walkthrough!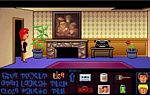 Maniac Mansion Deluxe ist ein windowskompatibles Remake des 1987 erschienenen, lustigen und spannenden Point&Click-Adventures "Maniac Mansion". Mit seinem damals innovativen Bedienkonzept gilt Maniac Mansion als wichtiger Meilenstein des Genres. Das Spiel ist nicht besonders schwer, und wenn man nicht mehr weiter weiß hilft ein Walkthrough.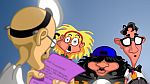 Return of the Tentacle - Prologue ist ein fantastisches Fanprojekt, das auf dem beliebten Point&Click-Adventure "Day of the Tentacle" aus dem Jahr 1993 basiert. Es wurde entwickelt, um einige neue Inhalte und Verbesserungen einzuführen und gleichzeitig die Nostalgie und den Charme des Originals zu bewahren. Die Geschichte dreht sich um drei Hauptcharaktere: Bernard, Hoagie und Laverne, die durch die Zeit reisen, um die Welt zu retten. Es werden wieder größenwahnsinnige Tentakel gejagt, irrsinnige Dialoge geführt und verrückte Rätsel gelöst. Man kann ein Walkthrough benutzen wenn man will. Oder muss ;-)